Home
|
Register
|
Site Map
|
Careers
|
Contact Us
"Investment is a science, not an art"
Overview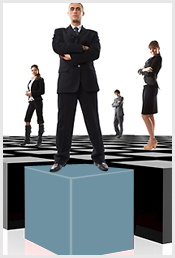 ViVeKam is a product-driven advisory firm with its head-quarters located in Hyderabad, Andhra Pradesh. We not only provide advisory services that include need based financial planning and investment management strategies for capital building to all sectors of society but also provide business opportunities to various business entities. We have expertise to help our clients take a holistic approach towards managing their financial requirements with a complete unbiased decision making but customized solutions.
ViVeKam Financial Services Pvt Ltd was set up in 2010 with the purpose to bridge the gap between financial information and financial decision making that is sensed by many individuals. Every individual, numerous times in a lifetime is faced with financial choices that need careful analysis and wise decision making. However, very rarely do financial experts speak language that is understood by common people. At ViVeKam we focus on delivering easy-to-understand and implement financial tools and helping people to learn the science of investing and growing. ViVeKam could play a crucial role in helping you not only to identify realistic financial goals but also to realize your financial aspirations.
Not surprisingly, most of any individual's financial needs are the same though the time frame and quantum differ considerably from individual to individual. Understanding this basic principle, we have been able to broadly classify the financial needs under different categories. Using this as the blue-print, we have carefully crafted numerous products ensuring sufficient safety factor for each of the product. Through our experience and research we have been able to design a host of products that could cater to most definable objectives of any person. While the philosophy of each of our products is the same, the core logic has been duly adopted to derive the stated objective of the product. Our financial planning desk not only understands our products and your needs admirably but also helps you identify the right product mix to meet your goals within the specified time frames.
All the products on ViVeKam's platform have been tested rigorously over more than ten years of financial data and the results have been tabulated for any interested party to verify. ViVeKam humbly withdraws itself from the pool of so called financial wizards or intellectuals and thus it does not partake in any closed privy to information group. ViVeKam has built and will continue to build all its products based on discovery of worth through collective wisdom of humanity. Further, we believe and practice that adopting scientific, mathematical and statistical tools while disciplining our investment decisions and executing them with precision is the key to success. ViVeKam's products not only provide superior returns but also help you to drive away emotions from investment process and use your valued emotions for your valuable life.
Conceptualization, design and development of such successful products was possible after over 40 man years of effort, 30 years of experience, millions of iterations, involvement of the best brains and data on thousands of companies for 20 years and more. ViVeKam stands tall among its peers by being able to offer any of its products and their performance to public scrutiny. A few of the features that distinguish ViVeKam's products are…
Welcome to the world of evolving wisdom!! Stay clear of self-acclaimed analysts and paid experts from directing your investments / savings. We are here for helping clients meet their financial independence by making use of our healthy product platform. Our unbiased strategies are tailored to specific requirements which help in creating wealth, protecting wealth and reducing the time spent by the client in overseeing daily financial planning decisions.
We can proudly say that we are a one stop shop for all financial support, services and success!