A total of 437 companies (inclusive of banking companies) with a market cap of above 1000cr have released their financials as of today. Out of these 437 companies 302, roughly 70% of them have shown improved performance with an impressive increase in profit by 10.18% from its previous TTM.


If we exclude the banking 26 banking stocks that are included in the figures mentioned above, we arrive at an 8.38% increase in profits, at the same time with this exclusion the percentage of decreased profits moves down from -20.04% to -12.47%. However, the worst of banking sector has almost played out with several banks seeking their all time lows. We don't foresee further deep cuts in them as the status is well known by now. Hence, taking all companies, with more than Rs 1,000 Cr market cap, into consideration, we feel comfortable to note that 70% of them have done well.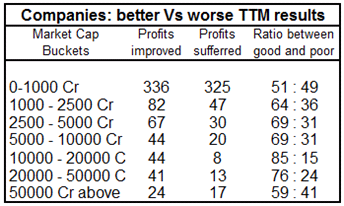 Time and again we have seen that companies with a market cap of lower than 1000cr have always given out a poor ratio when compared to the rest of the market cap buckets. That is why we only invest in companies, with a market cap of more than 1000cr, providing your investment additional layers of safety in terms of performance, reliability and liquidity.

The fall in the month of October has got the prices of many fundamentally strong companies to trade much lower than their intrinsic values providing individuals an excellent opportunity to make aggressive investments in the equity market.