In the radial representation below one can see that out of 681 companies (with Market capitalization above Rs 1,000 Cr) that have given out their results, 430 of them have shown improved profits over their previous quarter with an average growth of 18.11%. 251 companies have shown weaker profits and the extent of fall was steep at -49.18%. Because of steep losses reported by a handful of companies, the overall profitability too suffered by dropping at -6.18%.
Broader markets, reflecting this negative growth, have already corrected with 80% stocks witnessing fall in prices. It is always wise to buy when the markets are fearful – as stated by world acclaimed investor Warren Buffet. When you closely watch the break up of good vs. bad performers, you will realize that majority of stocks improved their profits. Currently the fundamentals seem to have taken a back seat in the market due to many external factors. But this cannot last for long, as corporate India is robust and shows no sign of dullness.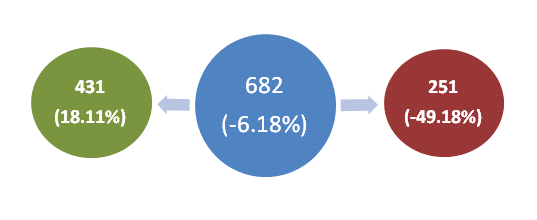 (This loss % is inclusive of the 27,000cr loss posted by Tata Motors)
Let us also pay attention to the number of companies reporting better vs. poor performance based on their market capitalization sizes. From the picture below, one will appreciate that companies improving profits outnumbered the ones making lesser profits or more losses in almost all categories. The gap is more profound as one moves up in Market Capitalization segments.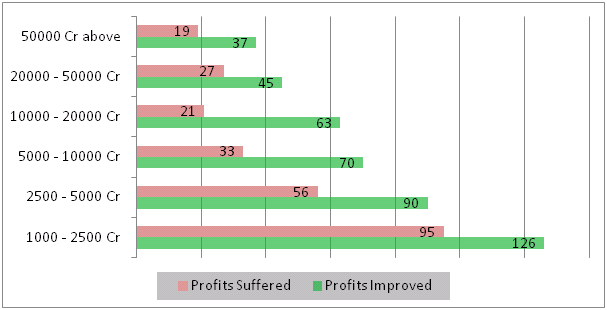 With markets reeling at very low levels, as has been always the case in the past, one should seize this as an opportunity with a couple of years time frame in mind. We strongly urge investors to consider investing now to reap significant profits in very near future.