For whom?
Vivekam Baskets are our very own set of theme based investing products. Our baskets allow investors to get exposure into stocks that stand to benefit from a particular theme or trend.
How?
Originally created during the COVID-19 crisis, baskets were meant to take advantage of the attractive investment opportunities possible through investing in the right sectors. Since that time, we have been identifying newer theme based investment options that fit well with the values of the investors combined with greater growth potential. Each of our baskets are carefully curated to heavily rely on underlying fundamentals of stocks combined with Vivekam's expertise on research and backtesting. Each theme is unique in the underlying factors that contribute to stock selection.
Vivekam's baskets are meant to be short lived investment opportunities (1-2 Years) that have in-built diversification on the number of stocks that are invested into so as to protect against volatility in a particular stock. After due research from Vivekam, stocks are invested into by way of weights assigned per market capitalization to ensure liquidity and lower risk. Dividends earned on the stocks are duly deposited to the investors.
Each of our baskets have a more detailed explanation on the philosophy behind stock selection along with major contributing factors taken into consideration during the selection process from Vivekam. Vivekam will alert investors too if the basket has appreciated enough and the underlying scope to grow from current levels is saturated.
Minimum Investment Size into each basket is Rs 50,000 to ensure we are able to have adequate capital to buy all the stocks in the basket.
For how long?
Vivekam Baskets are meant to be short lived investment opportunities (1-2) year time frame. Have a look at the performance of some of our baskets benchmarked against the Nifty.
Basket
Performance
Nifty
Agro Based
60.75
23.86
Gas Distribution
38.95
23.86
Construction
45.94
23.86
* Listing only 3 of Vivekam Baskets as invested on March 30th2020 upto July 7th
Vivekam's Defensive basket was created to take advantage of the attractive investment opportunities created by COVID-19. The core philosophy of the Defensive basket follows:
What influences stock prices in short and long term?
Stock prices in short term are driven by supply, be it from FIIs or nervous investors or pure speculators. In long term, fundamentals determine price range. When prices seek lower levels because of external events, one should see it as an opportunity to grab them at lower levels, provided their fundamentals are unlikely to be impacted by the event.
Systematic risk Vs Unsystematic risk
Risks impacting all stocks in the market are called systematic risks while risks impacting only specific stocks are called unsystematic risks. Major events like COVID-19 pose unsystematic risks to a few businesses and systematic risks to a few other. To understand businesses that cannot remain impacted longer than the duration of COVID-19, we need to understand discretionary Vs non-discretionary spending by consumers.
Industries that may not be too adversely impacted:
Demand for products or services offered by listed stocks can be broadly split between those that modelled their business on discretionary spending and non-discretionary spending by consumers. Even in the peak of crisis, we cannot stay away from using food, detergents, power, fertilizers, pesticides, medicines, health services, education and software. Among the stocks that are in these businesses, if they have a healthy debt-equity ratio (even better if they have zero debt) along with some other major contributing factors, the businesses will bounce back far quicker. Power sector is heavily burdened by large amounts of debt and may suffer due to liquidity squeeze. We have shortlisted market leaders from these industries to stitch up our baskets. Drawing an example from 2008 crisis and other drops, we tried to see how PE ratios contract in crisis and expand later on.
Industry
Pre 2008 PE
PE after crisis
PE In 2 Years
2020 Jan PE
April 2020 PE
Software
23.08
11.56
23.17
20.28
15.89
Gas distrbtn
17.70
8.96
17.07
12.33
9.08
Agri – related
10.26
8.95
11.10
32.95
24.89
FMCG
25.18
24.23
25.21
37.86
32.33
Pharma
16.59
12.22
21.30
35.33
36.51
Power
Not considered since current debt levels are too high
From the values given above, you will notice that Pharma stocks have not lost ground because of COVID-19 crisis. Leaving pharma and power, we have four baskets with built in safety and good scope for steady appreciation. Risk averse investors should consider this option for additional investments because apart from adding diversity, these groups will recover their lost ground rather quickly.
Vivekam's Aggressive Basket was created with the following philosophy:
When the economy contracts, most countries following the Keynesian economic theory invest big in building infrastructure to boost the sagging economies. Indian government has clearly stated its goal of spending hugely into infrastructure before COVID-19, during its budget presentation. Post COVID-19, it has become almost imperative that the government will fire all its guns to kick start the economy to take advantage of emerging opportunities as a result of growing dislike for China in major economies.
HOW GOVERNMENTS REACTED PREVIOUSLY:
After the great recession in the 30's, US spent over 10% of its GDP on infrastructure, which was a paltry 3% in 1929 before the great recession. After the 2008 crisis, US resorted to QE and provided almost cost-free funds to ailing financial institutions, which otherwise could have crippled the economy. Recovery after 1933 and bounce back after 2009 are there for anyone to see and conclude that government actions were justified. When governments spend money on infrastructure assets, the wheels of economy begin to move on and gather pace.
But unlike US, where manpower is scarce and expensive, India suffers from large scale unemployment when the economy flounders. Government will have to balance between moving the economy while taking steps to bring unemployment rate down faster. In order to address the rising likelihood of social unrest because of Lockdown and migrant labor issues, Government will work hard on sectors that create immediate employment as well as those that augur well for the well-being of the country. In this backdrop, it is worthwhile to look at the sectors that meet the twin goals of economic recovery and job creation, at the same time.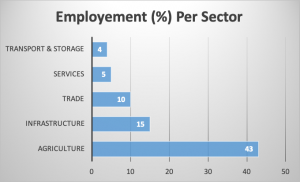 SECTORS THAT THE GOVERNMENT WILL FOCUS ON:
For continued food security to 1.37 billion people, agriculture will be the focus and it works to provide employment to 43% of the 487 million work force. Next on priority should be construction that will directly absorb 15% of the working class. Once the employable opportunities are created, consumption will pick up and the industries providing goods and services will do very well. However, unless an effective vaccine is invented and introduced quickly, a few industries will be set to suffer the most. Automobiles, Airlines, Travels & tours, Hotel and hospitality are a few of them. To kick start the economy, government will have to invest heavily in infrastructure projects.
We are ready with some baskets that are meant for investors who buy our line of thought and are prepared to wait for longer periods, if necessary, to see some solid growth on their investments. These baskets will be termed Aggressive and will consist of sectors that are set to participate in eventual recovery. However, to become potential multi-baggers, Midcap stocks from those segments are grouped together. We strongly recommend investing in at least 4 such baskets as prudent diversification.