The last quarter results for the Financial Year 2018-19 are being published along with the annual statements. A total of 216 companies so far have given out their results. Even through the volatility of markets in FY 19, corporate performance of majority of companies with a market cap above 1,000 crores had been stepping up. From the 216 companies, 146 have shown progress in performance with a growth of 24.44% in their latest TTM* and 70 of them have had a drop in profits. Among the stocks that suffered in profits are Hero Moto Corp, Piramal Enterprises and Yes Bank. Axis bank, Biocon and Cyient on the other hand were among the ones that have shown higher figures on their bottom line.
*(TTM – Trailing Twelve Months)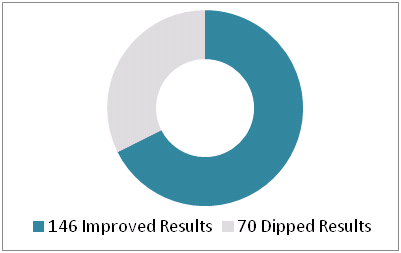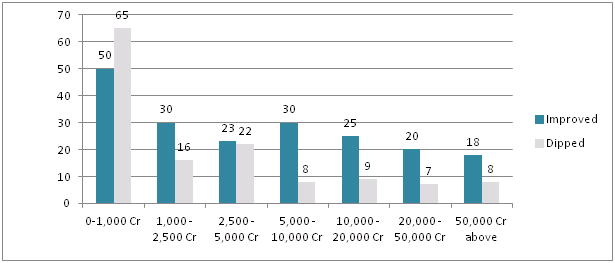 The graph above illustrates the improved to fallen performance of companies based on the market cap buckets they belong to. From the graph, it can be inferred the ratio of companies having an underwhelming performance is the highest in the first bucket of 0-1000cr. It is best for a retail investor to avoid investing in companies from this bucket.
In the recent weeks Nifty made up majority of its lost value from the fall in Aug- Sep, but the midcap segment still has quite a bit of recovery to do. Times like this when the stocks are trading at lows, are opportune times to start an investment or add in on the existing portfolio. Compared to January 2018 levels, Nifty Midcap index has so far lost over 23%. Historically, investing during such deep cuts in prices has often resulted in significant profits of over 20% per annum.
Vivekam's scientific processes have made the identification of undervalued quality stocks easier than ever. Feel free to get in touch to know more.
Happy Investing!