Banking industry has been reeling under the pressure of NPAs for some time. That pain seemed to continue in the present quarter of 2018 June too. We captured the performance of all companies with over 1,000 Crore Market capitalization including banking stocks. Though a majority of stocks at 345 reported a healthy profit growth of 10.14%, the balance 122 laggards reported degrowth to the extent of 37.02%.

However, if we exclude the banking stocks from our coverage (since we knew their performance will be sub-optimal), the corporate rebound is profound. For every one stock reporting degrowth, there were more than 3 companies reporting healthy growth. The following table excluded banking stocks from our purview to present realistic picture of corporate performance. The degrowth in 108 non-banking stocks stood at 20.21%.

As has been the practice of this column, we also captured updated status of stocks placed in their market cap buckets. Ratio of better companies to worse companies ( in terms of financial results in latest TTM period) has displayed strength among companies enjoying higher market cap. It is only in the stocks with less than 1,000 Crore market cap, the gap seems narrowing.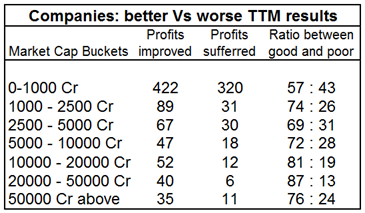 Trend of improved corporate performance appears intact and investors may not worry to cherry pick fundamentally strong stocks, but beaten down in the last six months, with a lot of conviction. They should certainly be rewarded with handsome profits in months to come.