SPOTS – Current (Select Portfolio of Top Stocks)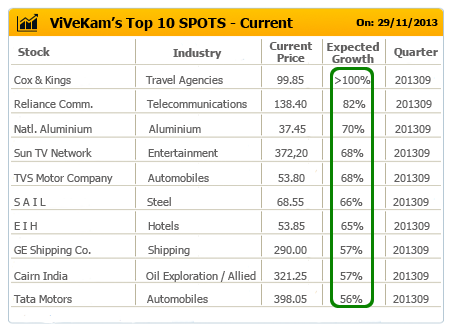 For whom?
Anyone interested in knowing what ViVeKam's Top picks at any given moment can make use of this service. Since our analysis is purely based on scientific data, you can be assured to pick up the right stocks at any given point.
How?
ViVeKam will provide the top 10 stocks picked based on ViVeKam's ranking at that point of time. Based on the performance, underpriced stock with maximum scope to grow is determined and ranked accordingly. We also show the expected growth prospective for that stock thus making it easier for you to make your investment decision.
How do I register for this service?
You will need to register by becoming a member. Please click on register now on the home page to get the various membership options and services offered.