Though the world markets appear to be delicately positioned, in view of impending Trade War between US and several other countries, results from Indian listed stocks continued to be encouraging. This surely augurs well for sustained uptrend, if the macros stop posing threats. The steep devaluation of Lira, Turkey's currency is a worrisome development and the impact of this development in Eurozone banks appear uncertain at this moment.
When we look at Indian corporate performance in isolation of international developments, there were 602 non banking stocks with more than 1,000 crore market capitalization have announced results so far. Out of them 451 have improved their performance and reported 10.46% surge in their profits. 151 companies that reported dip in profits or rise in losses have witnessed a degrowth of 30.35% in the latest TTM Vs previous TTM. Business sentiment is definitely improving and expected to stay that way, if IMF view of India emerging as a nation holding Global growth for next 30 years is belived.

Smaller companies, with less than 1,000 Crore market capitalization appear to be not doing too well. In the interest of investors, we must warn that these stocks pose a serious threat of poor liquidity even if their prices appear to move up. When several stocks are reporting healthy operations, it is wise to focus our attention on growing companies and pick those that appear priced at a discount to their fair values. Vivekam helps clients load their portfolios only with such stocks through its products and services.
At a broad level, we checked on the ratio between Better and Poor companies, in terms of improved profits in lat two TTM periods. Here is the table for you to notice the fact that more companies seem to be doing well as we move up on Market capitalization buckets. This reinforces the belief that tax compliant companies of significant size of operations are reaping the benefits of GST introduction and other structural reforms undertaken by the Government.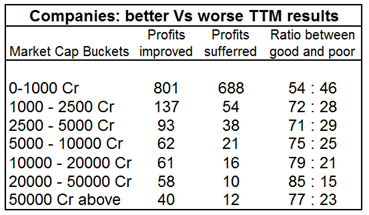 Despite indices hitting new highs, several stocks in the broader market have corrected steeply over the past six or seven months. With a time horizon of two or three years, if one sits down and attempts to pick growing stocks, they are very likely to be rewarded with a return as high as 25% CAGR. We urge all our investors to muster some courage and begin their investment journey before the stocks are priced high again.
It is not always possible to find healthy growing stocks at a steep discount to their fair values.