As of today morning, 4,084 companies have announced their 2018 June quarter results. 745 companies, that included banking stocks, with Market Capitalisation of over 1,000 crores have come out with results so far. Unlike in past quarters, where banking stocks mostly reported losses, this time around a good number of stocks either trimmed losses or reported better profits in their operations. Before we take a look at banking stocks, let us see how the entire corporate sector has performed. We present data on companies having more than 1,000 Crore market captialisation first.

Profit growth of 11.04% by 544 companies in this segment is commendable. This included a few banking stocks as well. 18 out of 36 banking stocks have reported trimming losses or increased profits. This set of stocks that bettered their performance have shown an overall growth of 2,285 crores in the latest TTM. However, the balance 18 stocks that reported worse performance have increased their losses to the tune of 12.927 Crores. Banking stocks will probably need a bit longer period to bounce back and be reckoned as investment worthy.
When we removed banking stocks from our comparison, we have seen a total of 709 companies (> 1,000 Crore M.Cap) reporting and out of them 526 have done well while 183 didn't do well.

Profits of better companies, at aggregate level, grew by 10.56% and the losses suffered by non banking stocks stood at 29.62% at aggregate level. From the tables above, we can infer that the losses in banking stocks was steeper than other sectors. Despite challenging times in world markets, there were 3 better stocks for each stock suffering in profits. We then focused our attention on how the ratio between better and worse stocks looks like across companies divided on market cap basis.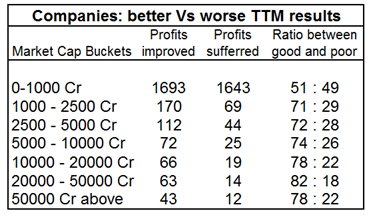 While about 50% of stocks in the first bucket of less than 1,000 Crore Market Cap reported better results to return 51:49 ratio between better and worse, as we move upwards, the ratio improved. This implies that investors will have better chances of being with good stocks in stocks that have more than 1,000 Crore Market Cap. It is for this very reason, Vivekam always strives to identify growth stocks only from this category.