The third quarter results so far have been a rollercoaster ride with its ups and downs. From the table below you can see that out of the 525 companies with market cap higher than 1000cr that have given out results, 331 have showed improved performance with an overall growth of 16.80% in the latest TTM (trailing twelve months). The 194 companies that suffered in profits had a degrowth equivalent to (50.23%) in the latest TTM. This includes banking stocks too. Since the overall performance of the banking stocks was upsetting, if removed, the percentage of degrowth falls to (38.85%) from (50.23%).


(*Tata Motors reported a loss of around Rs. 27,000cr, which if excluded improves the percentage by 0.8% approx)
Auto, banking, textile and petroleum were a few sectors that gave out lower overall profits this quarter in contrast to their previous quarter profits. The graph below shows that in every market cap bucket, companies giving improved results outnumber the companies whose profits suffered.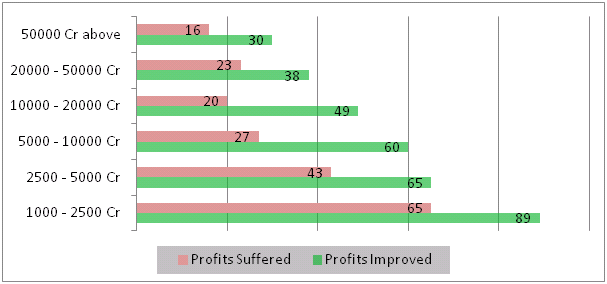 Even though greater part of the market showed improved results the degree of improvement was not very satisfactory. But the positive sentiments harvested by the budget and the recent decrease in interest rate by 25bps, indicate a forward leap in the performance of companies in succeeding quarters.